To jump to the detailed analyses, please use the links below. 
In September 2021, we ran an anonymous survey to examine the prices of Maine Coon kittens during the COVID-19 pandemic. 
We received 275 responses in just over a week which we were delighted with. Although this small number does not reflect the amount of kittens born in the UK during the pandemic, we received surveys that found their breeders through numerous avenues. As such, we feel that this survey is the most diverse examination into kitten pricing that we have so far. 
Important: Before examining the data, please remember that price does not always reflect the quality of either the kitten or the breeder.
Throughout the last 18 months there have been a number of strong debates over the average price of a Maine Coon kitten. The Maine Coon Cat Club states that kittens should be between £800-£1000 and no more. Conversely, debates have raged across Facebook groups that £1200-£1500 is the new average. 
We thought it made sense to get feedback from new owners that took their kittens home between 2019-2021, to help clear up any confusion. 
Our results begin with demonstrating evidence of responses, to give you a general overview of the dataset. We'll then go into the analysis of the data. 
Out of 275 responses, over half of kittens surveyed came from GCCF, with just over a third from TICA and just 4.4% from Felis Britannica. 
This in itself was surprising, we expected to have more results from TICA than GCCF. This data could demonstrate that GCCF is still a more popular registry with both breeders and owners alike, but as the dataset for this survey was fairly small, it's impossible to say with any certainty. 
This result was largely expected, although we were surprised to note that 7 surveys came back as kittens not having received a full course of vaccines. 
These kittens were registered across all 3 registries, there is no consistency in region or age, and none of these kittens went to their new homes during the first lockdown in March 2020, when vet clinics closed. 
Unfortunately, a few of these kittens were extremely expensive (£2000+) and a few were underage (8-10 weeks and 11-12 weeks). We would like to use these kittens as examples of breeders to avoid. There is no reason why a kitten should leave without a full course of vaccinations and no reason for kittens to leave underage. 
Please always ensure kittens are 13+ weeks and fully vaccinated before taking them home.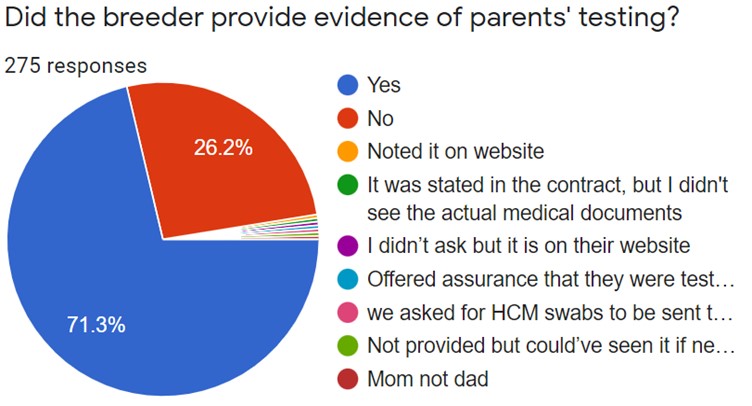 Most surveys indicated that the breeder either provided evidence of testing or testing could be seen if required. 
A note from us – always get copies of parents' (or grandparents) tests before signing your contract or making a deposit. 
As you can see we had a huge range of kitten ages in our survey. This is where the data starts getting quite exciting, as the majority of kittens surveyed were born in the last 2 years but we have a great control group of kittens born prior to the pandemic for comparison. 
The majority of kittens surveyed were the appropriate age of 13 weeks+. Unfortunately a decent percentage were underage, which is really not what we were hoping for. 
There were 6 kittens (1 GCCF, 5 TICA) who were 8-10 weeks when they went home. There no correlation with location of breeder or price.
A staggering 32 kittens went to new homes at 11-12 weeks (21 GCCF, 10 TICA &  1 Felis Britannica) again with no correlation between breeder location or price. 
What is common then? Sadly, the source of the breeder.
Unfortunately, 2 kittens out of 6 between 8-10 weeks and 8 kittens out of 32 between 11-12 weeks were found via Pets4Homes. Of the 8 kittens, 6 were over £1000 and of the 2 kittens, 1 was over £2,000. Of the 8 kittens, 4 were GCCF, 4 were TICA. Of the 2 kittens, both were TICA. 
Of the 8 kittens, all breeders began before the pandemic with 3 having UK bred parents, 3 having imported parents, and 2 having both. Of the 2 kittens, 1 breeder began before with UK bred parents and charged less than £800, one breeder began during with both imported & UK parents and charged £2001+.
Many breeders and owners have long since denounced Pets4Homes and this is evidence to back up the claims of the site being rife with bad breeders. 
Not only is homing kittens under 13 weeks breaking the rules of all three registries, it is also extremely stressful for both mum and kittens. We strongly advise owners to avoid any breeder allowing kittens to go under 13 weeks. 
Kittens came from all across the UK, with the most popular areas being the North West and the West Midlands. This is fairly consistent with what we know to be the spread of breeders, so these results were not entirely unexpected.
Somewhat disappointingly, a large portion of kittens came from Pets4Homes. As we have seen from the kitten age chart, not all Pets4Homes breeders are responsible. We will examine more of the distribution of costs a little later. 
Taking the majority by a margin is a breeder's Facebook page. In previous years, a Cat Club and/or website were the most popular ways to find breeders, but now the internet has taken over and a much smaller number now use Cat Club lists. Breeders may want to consider updating their social media presence in light of this data. 
The vast majority of breeders from the survey began breeding before the pandemic.
Of the 275 surveyed, 13 breeders began during the pandemic. Of those 13 breeder, 6 were found of Pets4Homes, 3 Facebook page, and 1-apiece for friend/relative/word of mouth, recommendation and Facebook ad.
The majority of kittens surveyed came from UK bred parents, with just over a quarter coming from a both UK and imported. Surprisingly just 11% came from imported only parents.
It is somewhat gratifying that a large number of Maine Coons being produced are still coming from UK bred lines. There has been much debate over whether imported parents are overtaking UK bred parents. This survey indicates that that is not the case, however, please do remember that this survey is a small dataset so may be biased.
And finally, the pricing of kittens. 
There is very little to say here, the chart speaks for itself. Three quarters of Maine Coon kittens surveyed cost less than £1000 during the COVID-19 pandemic
NB: pricing was changed early in the survey for clearer answers
Follow our links to read the breakdowns of costs by registry, region, and how the breeder was found.
To jump to the detailed analyses, please use the links below.